The ultimate guide to creating indoor spaces outdoors
Posted: 29th April 2023 | Author: Adam Brown | Category: Garden
Back to news
---
The ultimate guide to creating indoor spaces outdoors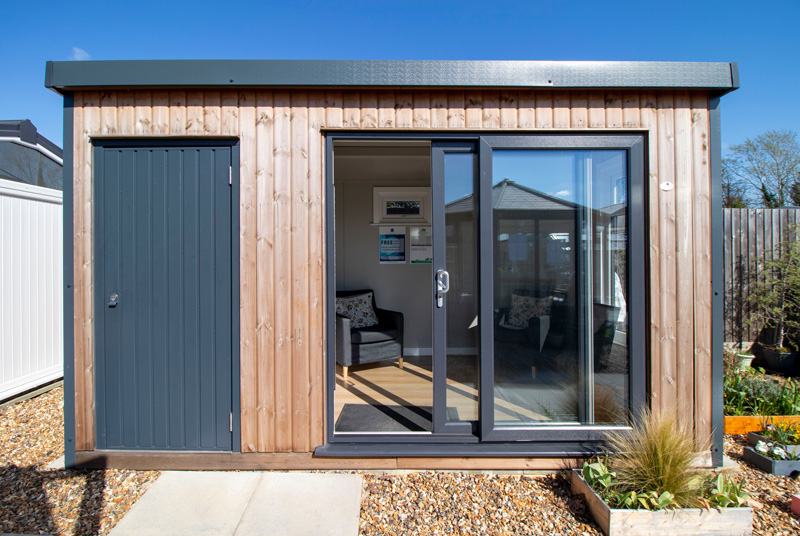 With warmer weather just around the corner, now is the perfect time to start making the most of your outdoor space. Outdoor living has grown in popularity over the past few years and shows no signs of slowing down.
If you want a quick and cost-effective way to add more space to your home, we've put together some top tips in our ultimate guide to creating indoor spaces outdoors.
Whether you're looking to create a quiet and calm environment to work in or host family and friends from your garden bar, check out our ultimate guide for plenty of inspiration to kick-start your next DIY project.
Work from your garden office
Remote work has become increasingly popular in recent years, and if you find yourself working from home in the spare room or dining room, you may want to consider building your own outdoor garden office. Not only will this give you more space, but having a dedicated work area will allow you to separate your work from your home life.
So, how can you create your very own garden office? You'll need to consider several things to make this the ideal working-from-home setup. This space will likely be used year-round, so it's important that it's insulated properly to block out sound and keep it warm during the colder months.
Consider running an exterior-grade ethernet cable from your house to a wireless access point in your garden office to ensure you have a strong Wi-Fi connection to avoid disruptions to your workload.
Host family and friends at your outdoor bar
A highlight for many people during summer is spending evenings in a beer garden with family and friends, but often these places can be rather busy. So, why not create your own bar area where you are always guaranteed a seat?
When creating a garden bar, you want to get the vibe just right so people can relax and have a great time. One important factor to consider is seating. Make sure you have plenty of seating options, including stools at the bar and comfy sofas facing each other to ensure a cosy, friendly atmosphere.
You should also consider creating the perfect view. Build your bar in an area that highlights the best features of your garden space. Festoon or fairy lights are great options for creating a cosy atmosphere, and don't forget to add some wall art to your garden bar to make it visually appealing.
You will need somewhere to store all your bar essentials, such as glasses and bottles, so ensure you have enough storage space when designing your garden bar.
Workout from your very own gym
Whether you're looking to start your fitness journey or you're a fitness enthusiast fed up with expensive gym memberships, a workout space to call your own is a fitting way to revamp your outdoor space.
The first thing you must consider is the space you have to work with and the gym equipment you plan to use. Some equipment and exercises require more height than others. As explained further in our creating indoor spaces outdoors guide, building an indoor space outdoors typically doesn't require planning permission if the construction is single storey and under three metres high, so this is worth bearing in mind when designing your gym.
Flooring is also important to remember when building a gym in your garden. If you plan on using heavy exercise equipment or are thinking of doing high-impact workouts, consider using specialist rubber gym tiles and reinforced floor joists.
Gym equipment is expensive, so installing security cameras and alarm systems is vital to deter potential intruders. While turning your outdoor space into a practical gym can be pricey initially, it will eventually pay off when you start seeing results and saving on gym fees.
Relax and unwind in your cinema room
If you want to create a space that all the family can enjoy, then a cinema room may be the way to go. Perfect for those summer nights when you want to stay outside all evening soaking up the warmth but also want to enjoy an activity suitable for all ages.
So, how can you create a cinema room in your garden? If you are cosying up to watch a film for a few hours, you want to be as relaxed as possible, so comfy seating is a must. Or, if you want to recreate a true cinema experience, you could opt for stepped seating.
Ensure your cinema room is fully soundproof to avoid interruptions from outside noise. Double and triple glazing windows and fabrics such as acoustic insulation roll can help drown out any noise.
A strong Wi-Fi connection is needed to stream films, so don't forget to run your ethernet cable from your house to the cinema room.
Take time to yourself in your man cave/she shed
Creating a man cave or she shed is the ultimate space that you can truly make your own. Whether it's a space for you to work on a hobby or chill out after a long day, this room should reflect you and all the things you enjoy.
How you design your room depends on what you want to get out of it. If you plan to use this space for various purposes, you should get savvy with space saving features. For example, a fold down desk is ideal if you plan to work from this room or a drop-down bar if you have friends over for drinks.
Make this room unique to your tastes with different textures, wall art, and lighting. You could create a reading nook, a green space, a games room, or a music room. Whatever you decide to do with this additional space, it's important that you enjoy it.
We hope you find some useful tips in our guide to creating indoor spaces outdoors. Have you built a garden room, and do you have any tips to share? Join the conversation on social media using #UltimateOutdoorLivingSpace.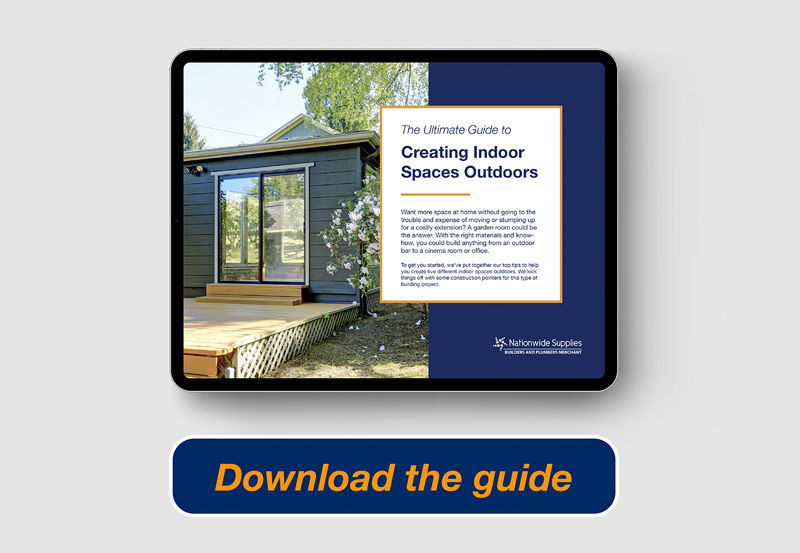 The Author: Adam Brown

With a background as a Mechanical Engineer, I started Nationwide Supplies alongside my brother with a vision to modernise what seemed a stuck-in-its-ways industry in the builders merchant sector. Since 2011 it has been my goal to source quality products at the correct prices to be able to offer a saving to customers along with high quality customer service which offers quick delivery and superior technical knowledge in the industry.
Back to news