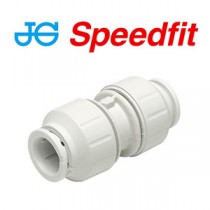 John Guest Speedfit
John Guest Speedfit manufactures more push-fit fittings and tube than anyone else in the world and has been providing reliable plumbing and heating systems for over half a century.
Born through precision engineering, extensive research and rigorous testing, Speedfit products blend push-fit and multi-seal technology for a reliable leak-proof connection. Simple to install and using less connectors than traditional methods, Speedfit cuts installation time by 40%, so you can say goodbye to time-consuming and costly plumbing jobs. Plus, no tools are required when installing or demounting fittings, making it easy to manoeuvre in tight spaces or readjust joins. Whether you are working on a new build or a repair and maintenance job, Speedfit comes in wide range of sizes to suit any domestic or light commercial application. Speedfit's extensive choice of plastic, brass and chrome fittings, tap connectors, valves and flexi hoses gives you everything you need to complete the job in no time. By combining these products with plastic push-fit pipe, you can create a truly flexible and affordable plumbing and heating system.
All of our products are accredited with the leading testing and approval organisations including WRAS and are suitable for use with plastic or copper pipe.