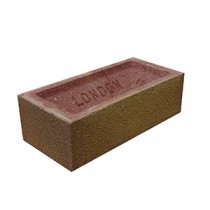 Bricks
Ordering bricks for a building project? Take a look at our huge range here at Nationwide Supplies, all ready for next day delivery.
If you're looking for something in particular, we can also match and source most bricks on the market. So whether you're tackling simple repairs and need a matching brick, or are starting work on a whole new structure, you'll find just what you're looking for here. When it comes to top quality, great value building supplies, we're your one-stop shop.
A huge range of bricks for every project
Here at Nationwide Supplies, we make sure we always have a wide collection of bricks kept in stock. This makes it easy, quick and convenient to get supplies when you need them, and keep your project running smoothly.
This includes solid bricks, Class B bricks, engineering bricks, facing bricks, air bricks, coursing bricks and regrade bricks. We can supply bricks from reputable manufacturers such as Wienerberger, LBC, Forterra, Carlton, Hoskins, Ibstock, Bovingdon, Terca and many more. And when you need the perfect match for a particular brick, we can help. Our expert team can match or source most bricks on the market.
Not sure how many bricks you need? Use our handy calculator to estimate the required quantity for your project.