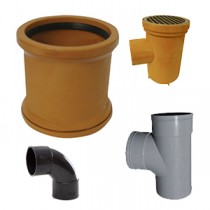 Civils & Drainage
Industry leading suppliers of underground drainage and above ground soil & vent and waste pipe and fittings.
We strive to make sure our pricing is always the most competitive around with products and service levels to match. Underground uPVC drainage available in 110mm (4") and 160mm (6") from our extensive stock as well as both solvent weld and push fit soil and waste in several colours.
Concrete manholes and chambers also available on UK wide delivery from 450mm up to 2000mm widths.